It all started in 1994.
Our company was incorporated in 1995 in Lapu-lapu City, Cebu, Philippines. We are in the business for over 28 years.
We are the exclusive distributor of Davis Instruments products in the Philippines.
This website is owned by APEXS, Inc. You can learn more about them by visiting their website at www.apexsinc.com/p/about.html.
There, you may discover more about how they started creating the firm from the ground up.
If you want to learn more about Davis Weather Stations, go ahead and visit www.davisweatherstation.com.
This website is also updated on a regular basis.
Our Company Mission
APEXS Inc. observes the corporate policy of using the latest available technology to promote cost-effective solutions for its customers.
Another corporate policy that APEXS, Inc. strongly adheres to is its commitment to total customer satisfaction. Along with this, is the special emphasis on after sales product technical support and staff training.
Our attention to customer feedback and concerns has proven to be a valuable resource for product development and improvement ideas.
Top quality products
Best customer service
World class support
Our team
Our team draws on broad industry experience and networks to create the most powerful outcomes for our clients.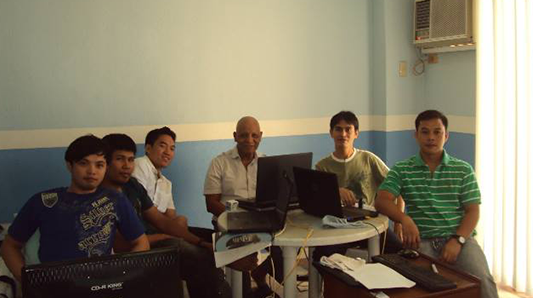 Mr. Shel Shannon is the founder and president. The last thirteen years of his employment was as a senior staff employee with Saudi Aramco in Dhahran, Kingdom of Saudi Arabia the company from which he is an early retiree as of September 1994. After many years of overseas employment (including several years in the Philippines), in a number of countries, Mr. Shannon, (a U.S. citizen) and his wife Sophie (a native Cebuana) applied for and were granted a special retiree visa by the Philippine government as investors.
The picture above, is the group of Apexs, Inc. Technical support Engineers (last November 11, 2014).
Testimonials
"
What I like best compared to other weather systems I've owned is how quickly the Vantage Vue relays data, especially wind speed. I previously owned an AccuRite system and was often disappointed when a strong gust of wind failed to record since AccuRite only relays data every 10-15 seconds. Not so with the Vantage Vue, which transmits data every 2.5 seconds.
"
"
I've had this new Weather Station for several months now and give it 5 stars. It works and is still working! My older different brand (had pieces flying off and systems failing) never did satisfy my "In Real Time" wind speed fix. I'll keep this by my chair and enjoy this Davis Instrument. Would I recommend? Yes!
"
"
I've had this weather station for 6 months or more and look at it every day. I mounted it on a 30' pole next to my garage at an opening of about 40' between two Oak trees. I love all of the different settings and views to choose from. I mainly use it to watch the temperature, humidity, dew point and rain gauge.
"
- william barton -
"
If you love or hate the weather and long to know what's going on with the wind, rain, humidity, sunrise and sunset and nearly everything else meteorological in your backyard? This is the weather station for you because it really works even under severe conditions. Highly recommended and worth the price. We have purchased other stations but this is definitely the best!
"
- Leena Doe -